Vermont Travel
>>>Vermont Country Store

Falling in Love with Weston VT and the Vermont Country Store

Vermont Country Store (photo by Eric)
For those not familiar to the area, Weston, VT, represents New England at its finest. A charming village green with a gazebo gently tells you, "I am New England." The serene, green environs evokes a sweet dream, only this isn't a dream. Weston is a Vermont masterpiece, filled with charmingly quaint New England homes, and sunny streets filtered by pure Green Mountain air. Many of us know of homes placed on the National Register of Historic Places. In this case, the whole village of Weston is listed on the National Register of Historic Places. Everywhere you look is like a Norman Rockwell painting. This is what you call the real Vermont, not some developer's dream of what Vermont should look like.
Weston Town Common (photo by Eric)
Weston may be a quiet town, but it does have a retail district. It's called the Vermont Country Store
, specializing in Yankee bargains, Vermont-made clothing, heartwarming merchandise from yesteryear and just about anything else under the sun.
It wouldn't be a stretch to spend several hours at the Vermont Country Store, in Weston, given its vast selection of merchandise. With dark wood charm and a cavernous, but sweet smelling experience -- from the scented candles to the incredible fudge -- the Vermont Country store is a classic general store that isn't so general. Wonderful clothing, candles, kitchen gadgets, furniture, and so many hard-to-find items from yesteryear are amongst the 5,000 great products available at this New England legend.
Vermont Country Store hardware department (photo by Eric)
Vermont Country Store Toy Department (photo by Eric)

Many people find the food selection fascinating, and ultimately addictive. Tried and true New England favorites like Vermont maple syrup, old-fashioned New England fudge and sharp Vermont cheddar cheese are authentic regional favorites. "Lost candies" like Chuckles, fruit slices, Sky Bars, Walnettos, as well as the childhood favorite chocolate drink, Bosco, are just a few of the food and candy selections that can be found at the Vermont Country Store. It's a heartwarming experience, tailor-made for those looking to bring back great childhood memories!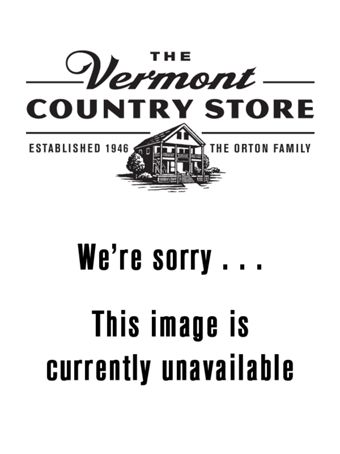 Vermont Country Store Fudge (photo credit: Vermont Country Store)
Be sure to dedicate plenty of time to browse the Vermont Country Store, but also leave plenty of time to take in the serene pastoral, small towns ways. Take a stroll -- you'll feel like you are officially in New England here -- and then if you have time left over, perhaps make a beeline right back to the Vermont Country Store! A great New England country store just has that effect.
The Vermont Country Store, Route 100, Weston, VT, 05161, Tel. (802) 362-4667
The inviting Vermont Country Store front porch (photo by Eric)
Find hotels near the Vermont Country Store